* Child (ages 0–9)
Buy 2 Get 2 FREE on sharing one room. Limited 3–4 people in one room.
Available: Mon, Fri
Transportation as per itinerary via deluxe motorcoach or minibus.

Passenger insurance while on board motorcoach.

Hotel accommodation which based on two adults sharing one bed room. (Double, Triple, Quad occupancy), excluding child fare.


Child rates apply to those 0-9 years and using existing bedding with 2 full-paying passengers (regardless of ages). Please bring car seats with you for your infants during the tour.



Tour taxes, Travel insurance and all charges arriving from deviation.

Admission packages or passes to attractions.

Personal charges such as travel document and visa fees.

Baggage handing fees, phone calls,
room service, movies etc.
Meals (breakfast, lunch, dinner) and
tips for waiters or waitresses.

Service fee for Escort/Tour Guide and Driver:

$8 per person/per day

Holiday/Weekend Hotel surcharges may apply.
| | | | | |
| --- | --- | --- | --- | --- |
| | | Adult | Child | |
| Empire State Building | | $29.00 | $23.00 | |
| New York City Circle Line | | $29.00 | $20.00 | |
| USS Intrepid | | $26.00 | $21.00 | |
| Maid of the Mist | | $17.00 | $10.00 | |
| IMAX | | $12.00 | $10.00 | |
| Corning Glass Center | | $16.00 | FREE | |
Single price is for one people staying in one room. Double, Triple & Quad prices are for two people , three people & four people staying in one room respectively.

Child rates apply to ages 0-9, please note each hotel room can only accommodate 4 guests (adults or children). Each guest rooms are standard with "two" full sizes or "one" queen bed.
All customers should be responsible for their own travel documents and visa if required.
All hotel and tour schedules are arranged before hand. Any person failing to appear on the day of departure shall not be refunded.
Other tour company's product or on line tickets (Admissions or Entrance fees) are not to combine with our already low cost tour package.
Customers are advise to purchase travel insurances before departure of their tours. Please ask one of our specialists for more information.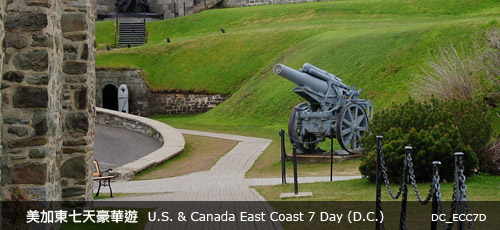 U.S. & Canada East Coast 7 Day (D.C.)
1:00PM Meet Tour Guide at National Air and Space Museum's Lobby (Near by information desk)
Afternoon arriving in Washington D.C.,The tour then proceeds to the National Air and Space Museum, featuring the original 1903 Flyer plane designed by the Wright brothers, the Spirit of St. Louis flown by Lindbergh, and actual spacecraft such as the Apollo 11 command module.
We then head to the Lincoln, and Jefferson Memorials, where we can honor these notable past presidents. All of these memorials are lined with stunning decorations and the stirring words of these great American heroes. We will then pay tribute to our modern heroes in the armed forces by touring the Vietnam and Korean War Veterans Memorial. The Vietnam Memorial, designed by Maya Lin, is a simple yet touching site containing a monument inscribed with the names of lost and fallen soldiers. The Korean War Veterans Memorial is equally inspiring, capturing the tension and uncertainty of war on faces of the fighting forces.
Day 2
D.C.–Corning Glass Center–Niagara Falls
From Washington D.C.,
head to the Corning Glass Center, featuring over 30,000 objects from every era of glass-making, including real glass-making on-site. Visitors can see the fragile art of glass-making. You will witness firsthand craftsman and artisans handily working superheated glass into delicate decorative pieces.
Afterwards, we depart for American portion of Niagara Falls, to see the majestic views of nature up close. It is important to note that Niagara Falls, consisting of the Horseshoe Falls, the American Falls, and the Bridal Veil Falls, features spectacular views in the nighttime, and cameras are a must!
Hotel: Adam"s Mark or similar
Day 3
Niagara Falls–Toronto
We continue our sightseeing in Niagara Falls to see the majestic views of nature up close. Hop on a boat-ride on the Maid of the Mist (seasonal) where you can "soak"in the excitement and see the power of the Falls up close. We will also be heading to the IMAX Theatre Niagara Falls (optional) where you can experience Niagara Falls' incredible stories, and see the most complete collection of barrels that have fallen down the mighty Falls. In the afternoon we depart Niagara Falls for Toronto. We will visit the World's Tallest Tower "CN Tower", Sky-Dome Sports Complex, City Hall, University of Toronto, and Ontario Parliament Building. Dinner in Chinatown.
Hotel: Delta Toronto East or similar.
Day 4
Toronto–Thousand Island–Ottawa–Montreal
Leaving Toronto in the morning, we head for Thousand Islands.Situated between Canada and the United States along the St. Lawrence River, there are actually 1,864 individual islands that dot the region. The tour will board a cruise in the CanadianThousandIsland region (seasonal), which features the more famous sights and views of Thousand Islands, including the renowned and romantic BoldtCastle. The castle was built in the 1890's by millionaire George Boldt for his beloved wife Louise.We will also see "Shortest International Bridge in the World", a small footbridge across two islands located between Canada and the United States. Afterwards, the tour heads for Ottawa, the Canadian Capital.There we will visit the magnificent ParliamentBuilding, as well as the stately Clock Tower nearby.The tour then proceeds to Montreal, unofficial capital for French Canadians.We will tour the Olympic Tower, part of the Olympic Park built for the 1976 Games, featuring a 30 degree incline as the tower rises!We will also pay a visit to two major churches in the area.The Notre-Dame Basilica, similar to its counterpart in Paris, has a wealth of exquisite detail, most of it carved from rare woods that have been delicately gilded and painted.It also houses le Gros Bourdon, is the largest bell on the continent.The second church on our itinerary is St. Joseph's Oratory, a major site of Roman Catholic pilgrimage and worship.The dome is the world's second largest, after St. Peter's in Rome, and religious pilgrims sometimes climb the steps in the middle, praying at every step.
Hotel: Hotel Gouverneur or similar.
Day 5
Montreal–Quebec–Boston
The tour departs for Quebec in the morning.We will visit Historic District of Old Quebec, designated as a UNESCO World Heritage Site.There you will have the opportunity to stroll through the beautiful downtown district, in particular the European styled St. Louis Gate, and see the massive Chateau Frontenac perched nearby the Saint Lawrence River.From there, we will cross the American border into Boston.The tour arrives in Boston in the evening, where we will have the opportunity to visit downtown Boston and Quincy Market.Situated between Boston's financial district, the waterfront, North End, GovernmentCenter and Haymarket, the vibrant Quincy Market is one of America's oldest gathering place.There will also be an opportunity to partake in Boston's most famous export "the lobster" during dinner.
Hotel: Sheraton or similar.
We will take a city tour of Boston in the morning - visiting renowed schools such as Harvard University and MIT. We will also tour the Charles River and vibrant Quincy Market, both important to Boston today as tourist destinations as they were public spaces during colonial times. At noon, we will arrive in New York, the largest metropolis in the United States, and transfer to our hotel for overnight accommodation.
Hotel: Pan America or similar or 3 star hotel or Sheraton New Jersey
We will take a New York City Tour of the city's well known sites - thriving Chinatown, Wall Street - the financial seat of the United States, Ground Zero, site of the 9/11 tragedy, Statute of Liberty, United Nations, and the Empire State Building. Walk along Times Square, Rockefeller Center, and Fifth Avenue like a real New Yorker. An optional Circle Line Cruise is available to enjoy the skyline views of New York.
After tour ended,we will provide bus tickets ( ticket tax: $3/ppl ) for you to return Washington DC(715 H Street At 7th St NW Washington, DC 20001)
The return bus is not accompanied by tourist guide,the final drop-off address depends on the comfirmation of the guide.
***or free send-off at NYC airports(JFK,LGA,EWR)***(flights after 19:00)
Maid of the Mist: Available from April to Oct 24 (Opening date depends on ice condition in the River)